As you know, SBI customers can apply for a new ATM/Debit card online through net banking and YONO. If you have already applied for a Debit card and want to track its status then you can login to Mobile Banking and track your request status.
After requesting a Debit card online, normally it will be delivered within 15 days through speed post. You can also track its delivery status by login to the mobile banking application (SBI YONO Lite).
After getting your new Debit card you can also activate it online and generate an ATM PIN. How to generate SBI ATM PIN Online
How To Track SBI ATM Card Delivery Status
If SBI YONO Lite Mobile Banking is active on your phone then follow these steps and check when your Debit card will be delivered and its current status.
(1) Open SBI YONO Lite application and login. After login, tap and open "Manage Cards"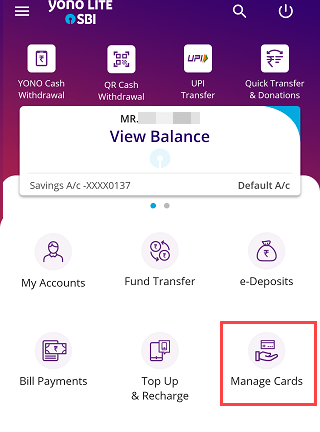 (2) Next screen, tap on Debit Card Issuance Tracking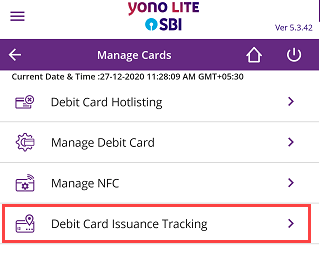 (3) And the next screen, select your account number, select the month and year when you placed your Debit card request, and submit. If you have applied for a new Debit card in December 2020 then select this month year and submit.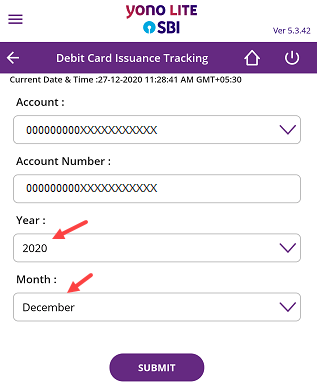 Next screen you can check the current status of your Debit card request and know when it will be delivered.
FAQs
(1) Is there any online way to track my new SBI ATM card online?
Ans: If you have applied for a new SBI Debit card online then you can track your request status online through mobile banking. Just login to mobile banking and open the Manage Cards section where you will find the Debit card issuance tracking option.
(2) I have applied for an SBI Debit card offline by visiting the branch, Can I track it online?
Ans: Yes, if Mobile banking is active on your phone then you can login and track your Debit card delivery status.